The XRP price has increased by 0.5% in the past 24 hours, reaching $0.523148 as the cryptocurrency market as a whole made a small recover today after recent losses.
XRP's move also comes after the publication of a report which found that the altcoin is the most favored cryptocurrency among Generation Z investors in South Korea, with 20% of this demographic holding the token.
Such a preference hasn't been able to stop XRP from dropping by 10% in a week and by 24% in the past month, however, although the coin remains up by 53% since the beginning of the year.
And with XRP arguably remaining undervalued relative to its fair price, the altcoin could easily return to growth in the next few weeks, justifying its position as the favorite cryptocurrency of younger South Koreans.
XRP Price Prediction as New Report Shows XRP is More Popular Than BTC and ETH Among Gen Z in South Korea – Time to Buy?
As poorly as XRP has performed in the past few weeks (much like the market as a whole), its indicators suggest that it's very close to bottoming out and returning to growth.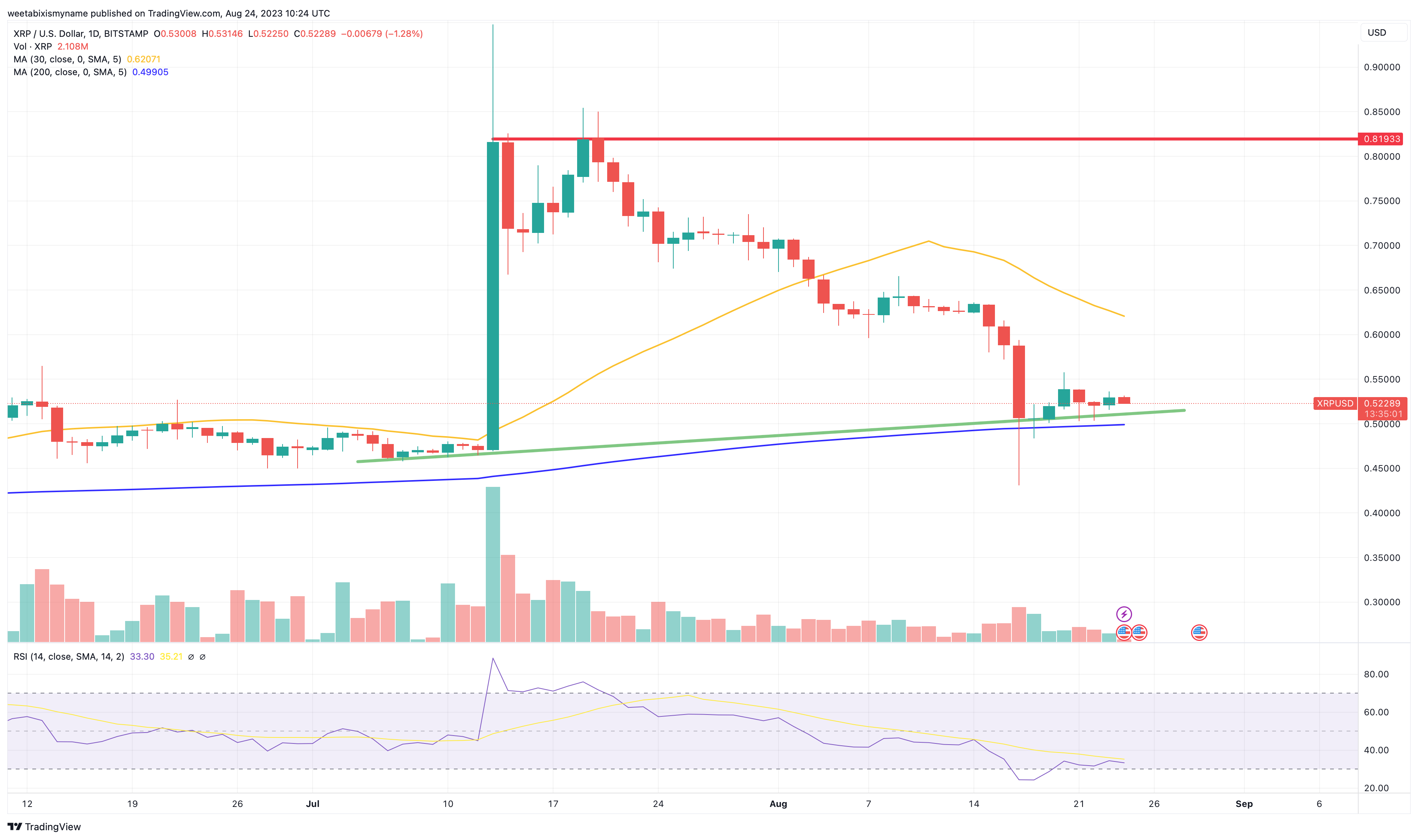 Its relative strength index (purple) continues to struggle close to 30, meaning that it's still oversold and undervalued.
This is happening as XRP's 30-day moving average (yellow) slides down towards its 200-day average (blue), reflecting recent losses of momentum.
And when the short-term average drops below its long-term counterpart, XRP could be said to have finished falling, with a rebound likely to follow soon after.
It's also encouraging to note that XRP's support level (green) has held up in the face of this past week's declines, implying that the coin is not going to fall much further before righting itself.
Indeed, it's clear that investor sentiment remains positive overall as far as XRP is concerned, with the aforementioned report showing that it's one of the most popular coins among younger traders looking for big gains.
Additionally, XRP's position remains as fundamentally strong now as it was in mid-July, when it rose as high as $0.83 in the wake of the ruling in the Ripple-SEC case.
Despite the SEC's application for an interlocutory appeal (which won't necessarily be granted, let alone successful), XRP remains listed by US-based exchanges, while Ripple continues to expand its business.
For example, the company was recently named as an official partner in Mastercard's CBDC Partner Program, something which could ultimately translate into Ripple playing a key role in the implementation of central bank digital currencies throughout the world.
Given such developments, it's clear that XRP continues to have plenty of potential, and should return to $0.60 in the next couple of months.
High-Return Presale Tokens
Given that XRP continues to have the threat of an SEC appeal hanging over it, many traders may prefer to look for more promising alternatives, particularly when the market as a whole remains in a somewhat uncertain state.
Fortunately, there are various newer altcoins that have emerged in recent weeks which have the potential to rally big in the near future, with various presale tokens being among them.
One of the most popular presales right now belongs to Wall Street Memes (WSM), a new ERC-20 meme token which has raised over $26 million in just a few months.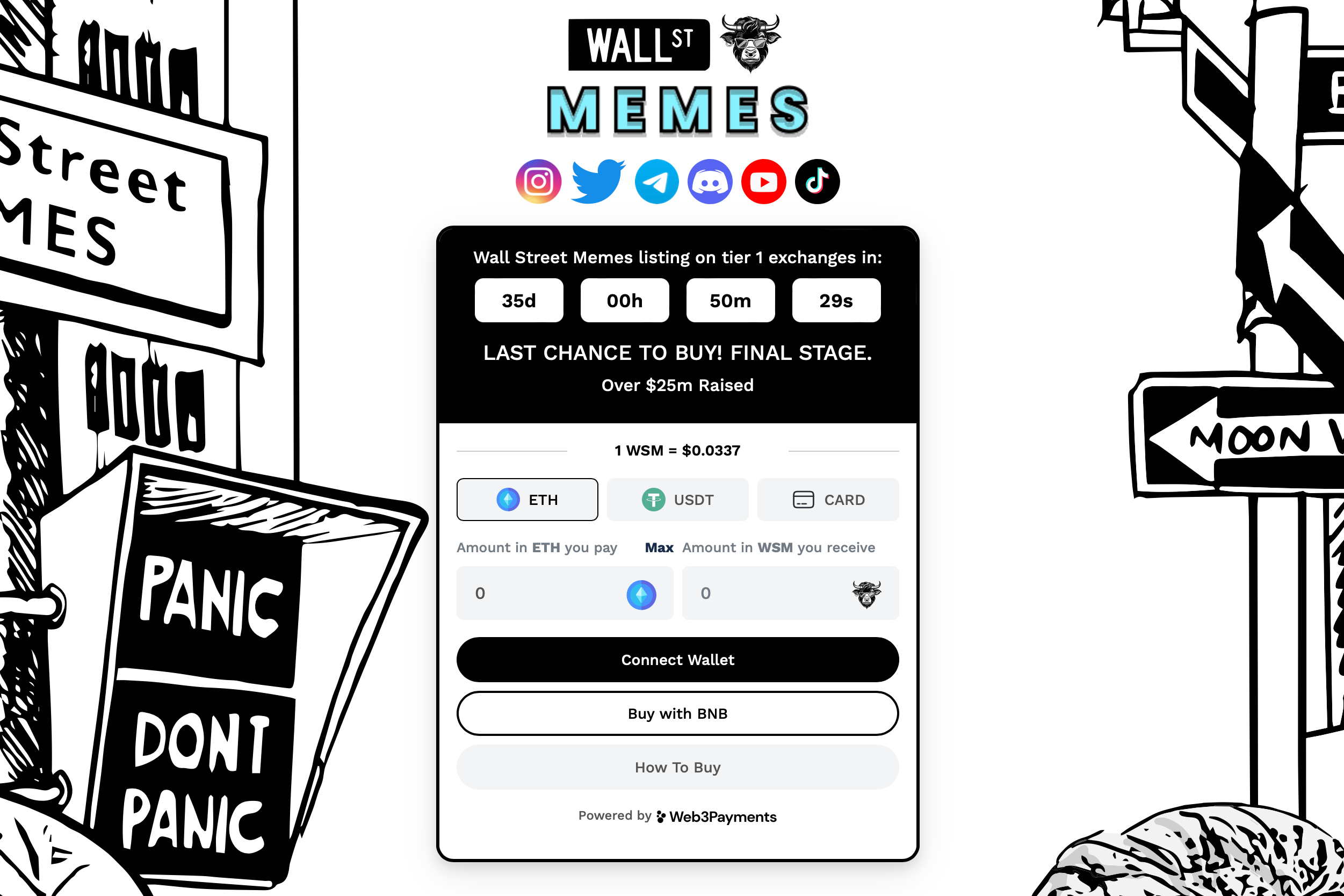 Wall Street Memes has grown out of the meme stocks movement that spearheaded the infamous GameStop rally in 2021, giving it a ready-made and thriving online community that has clearly helped its sale hit impressive heights.
Its Twitter account now has more than 260,000 followers, indicating just how popular WSM already is and is likely to become, given just how important communities are to meme tokens.
Improving the coin's prospects are its decentralized tokenomics, with 50% of its max supply (2 billion WSM) allocated to the presale and another 30% earmarked for community rewards.
Given this broad distribution, WSM is likelier than many other meme tokens and altcoins to attract more investors, who will be encouraged by the fact that no single investor or entity is going to hold a disproportionately large share of its tokens.
When combined with its already thriving community, such decentralization is likely to make WSM hugely successful once it lists, with new investors able to join its presale by going to the official Wall Street Memes website.
The sale is in its final stage, with 1 WSM costing $0.0337, and with the coin scheduled to list on various tier 1 exchanges in under 34 days.
Disclaimer: Crypto is a high-risk asset class. This article is provided for informational purposes and does not constitute investment advice. You could lose all of your capital.